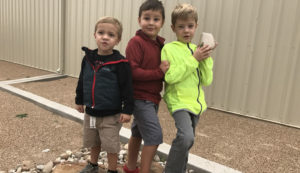 Ani ascertained somehow that if we got out to the fairgrounds before 10 a.m. Saturday, admission at least would be free. So there we were – three boys, the baby, Jake, Ani, Ben, Heather, Grandma and Grandpa and one service dog in-training entering the Panhandle South Plains Fairgrounds before all the vendors were functioning, before all the animals were in place, before some of the exhibits were open, and before any of the shows were scheduled.
There was plenty to see and do. And the reduced crowds made the venture more tolerable. We watched some livestock being unloaded, and that was a little too much for the dog. So while Heather tended to an over-agitated trainee, the rest of us wandered first through the poultry exhibits and then over to the children's barnyard. Not all the boys were thrilled with the animals.
But they did like the rocks that were part of the landscaping and the enjoyed the cuisine over at the midway and generally had a grand time.