So consistent and ominous were the forecasts before the storm arrived that local wags were calling the event "Snow-mageddon" and "Snow-pocalypse" in the hours leading up to its arrival.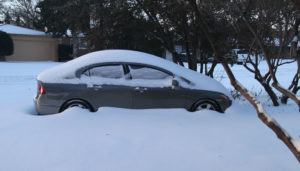 The blizzard of '15 lived up to its advance billing, and in the days after it hobbled the South Plains, local old-timers compared the event to another storm in 1983. Weather trackers said that in terms of "official" snowfall, the storm was the third heaviest on record. They were quick to add that what made the blizzard of  '15 unique were the winds that accompanied it. We had whiteouts Sunday, Dec. 27, that obscured houses even across the street. Official accounts placed the snowfall at something like 14 inches, but  local television newscasts were replete with images of drifts burying windward sides of homes.
Remarkable was the city's lack of response – for five days.
The storm moved in Saturday night (Dec. 26), abated somewhat Sunday morning, and then came with fury from the north on Sunday afternoon. Monday morning was quiet, peaceful, and beautiful. During the storm, media outlets had admonished residents to hunker down in their homes and go nowhere. Following the predictable run on the markets, most people did just hunker down.  There seemed to be a collective sense that Monday, after the storm had passed, life would get back to normal.
That did not happen. Monday came, and most of the traffic was confined to members of a four-wheeler club rescuing those who had become stranded in the snow. On Wednesday, the mayor finally asked the state to help, and in a matter of just a few hours, the major streets were clear.