By some accounts we had over the last two days the most snow in the region for a decade. So what were we to do? Play, of course.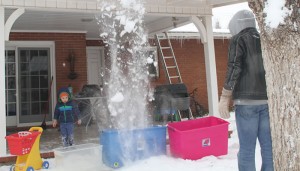 Where? Grandma's house. Of course. It was an all-day wait for the much anticipated arrival of cousins Jenna and Riley and Aunt Heather. All the boys had some kind of sled / toboggan
Leave it to Jake to come up with the grand plan. Lubbock is not blessed with topography that produces toboggan runs or ski slopes. However, given the quantity of snow we had, Jake calculated he could build a kiddie slope purely out of snow.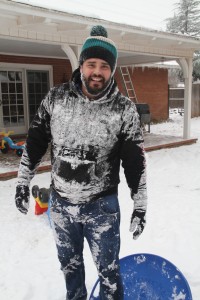 Applying snow engineering techniques learned during a two-year stint in Ohio, he commandeered tubs, trash cans, and toy boxes and used them as the molds to build large blocks of snow. When plain snow in the back yard was not enough, he began harvesting snow from the roof of the house. It was the light, dry, fluffy stuff … not the damp, sticky stuff affectionately known in California as "Sierra cement."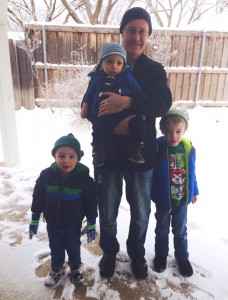 So it took a little extra work to build the tobogganing slope – ultimately requiring a little help from some water mist and skillful sculpting. But the slide worked just fine – for awhile. When Jude stalled mid-slope, Jake determined to test the slide out. Not a good idea. Toboggan stopped and Jake kept going – face first into the snow with the result that he sported haute couture the rest of the day.
In the end, continuous packing of new snow and a little help from a step-stool and some tree prunings bolstered the top of the slope – the starting gate – and the toboggan run worked fine for a couple days.